Why you should care
SQR customised this property, inspired by our childhood experiences, to provide a fun productive environment for Mamee's employees!
SQR is a multi-award-winning design and construction firm that offers exclusive project management services. Their crew is dedicated and committed throughout every level of their project by merging architecture and designs. As a renowned company in the field, they feature a unique aesthetic experience for all their exclusive clients.
The first thing that comes to mind when you step into the premise is Mamee! To add a sense of identity to their project, the interior experts opted to incorporate the brand's classic colours into the interior alongside contemporary design themes that effortlessly portray the nostalgic childhood snack. The eccentric colours of the brand stand tall in our hearts as a fond childhood memory for most netizens.
The property speaks loud memories of our childhood days while offering a fun working environment for their employees! Colours play a significant role in creating an effective workplace for employees. Painting offices with vivid colours keep employees energized and motivated. Taking hold of the bold, vibrant shades of blue, yellow, and red the brand carries, SQR Architecture injected the property with the themed hues while creating a spacious, open, modern, and conducive workplace.
Considering that they need to design a workplace that empowers professionals, increases productivity, and embraces the new norm culture, SQR Architecture delineated a shared office space that welcomes a smart co-working environment.  The office is not like the standard drab office settings we see all the time, as it unfolds a futuristic concept enlivening ease and tidiness for the convenience of their employees.
Nobody owns any of the tables, and they are all clean and available at all times when no one is using them. Lockers allow employees to have a designated space while also allowing them to have hot desks to prevent routine working. Only the heads of departments and the general manager have their workstation. By providing a defined yet borderless plan, spatial programming separates the public and work zones effectively.
The IDs further minimised the intrusive effects of noise and movement by breaking up the open areas with bookcases, plants, and shelves, creating a minimal space that provides a break from row after row of desks. Employees are granted separate work areas with large pieces of furniture, helping create a cohesive workspace that practices social distancing.
In terms of socialization, the designers have designed a space for sociability, accommodating groups of varying sizes by incorporating couches, comfortable chairs, and a variety of four-, six-, and eight-person tables. Team members can relax, unwind, speak with others, and be genuinely inspired to produce better work.
Highlighting the rich heritage land of the local homegrown brand at Malacca, vent blocks were incorporated in the designs, hoisting the space's looks by integrating various cities into the aesthetics of the interiors. For example, each name of their respective meeting and conference rooms is represented by the different station names of the London Tube line. These locations add a spot of fun during work hours, giving employees a chance to pick meeting areas based on their preferences!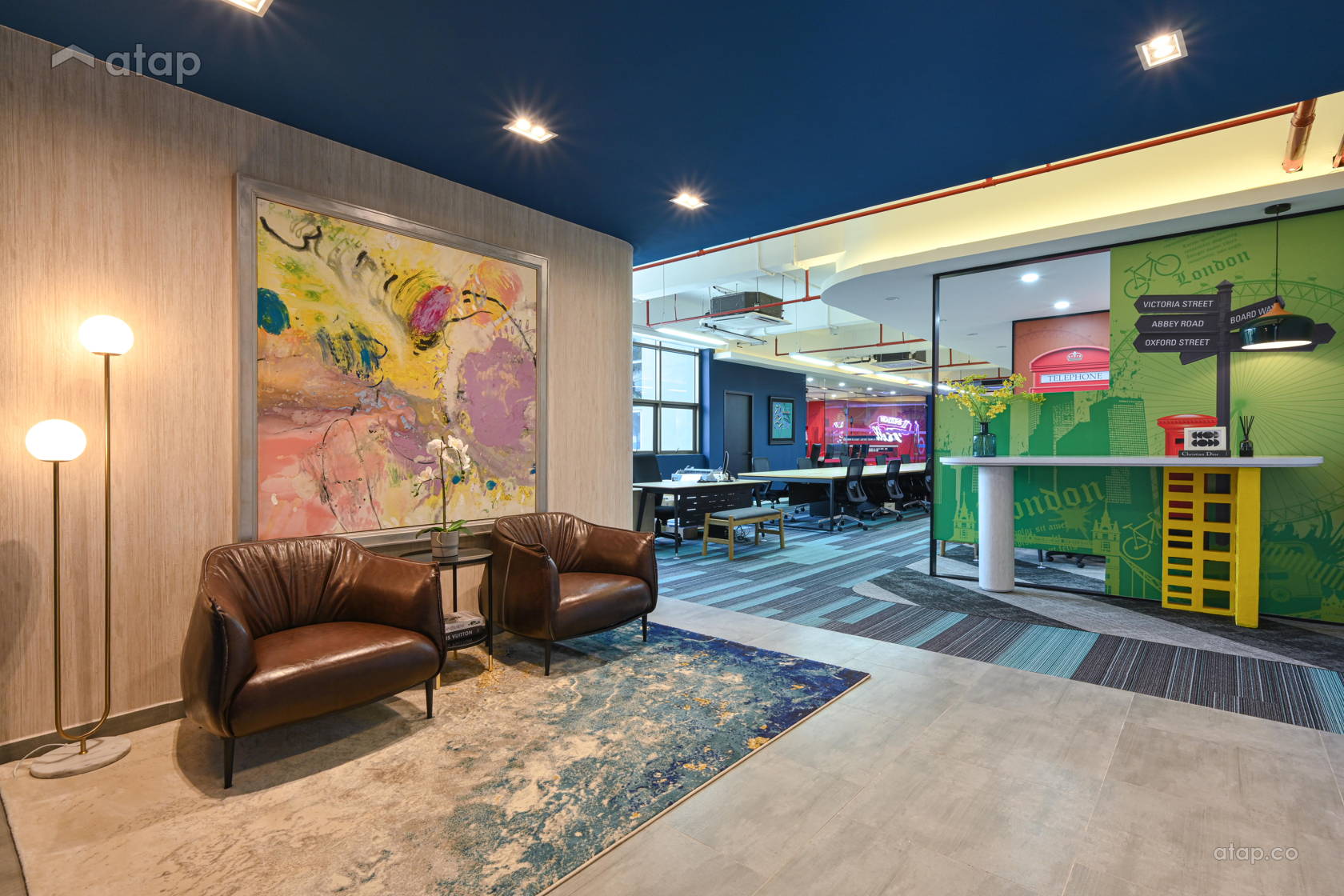 Setting up a comfy, friendly space in a flexible design can bring fresh perspectives and new ideas. Mamee's office has an open layout and a peaceful atmosphere that perfectly reflects the personality of its occupants.
This article is a feature extracted from Atap.co's 2021 magazine.
Want to give your space your a fresh new upgrade? Click here to connect with this award-winning interior designer!
Why you should care
SQR customised this property, inspired by our childhood experiences, to provide a fun productive environment for Mamee's employees!