Why you should care
Embracing the 'Less is More' philosophy, Box Design Studio created this personal sanctuary for a young family with a clean, bright, and minimalistic space that embodies serenity and simplicity with style!
Box Design Studio is an award-winning interior design firm in Malaysia known for its architecture and interior design expertise. Backed by years of experience, innovation, and creativity, the team behind this design firm curates home improvement projects that cater to the wants and necessities of its occupants.
A more recent project of theirs aptly named 'The Pristine, Twin Palms' is a home for a young family of five that wanted to turn their house into a home. Committed to delivering only the best, the team worked tirelessly to design, build, and showcase a home that blends all the occupants' personalities while remaining cohesive.
We recently spoke to Lucas, the Director of Box Design Studio, who gave us a peek into the entire design process of this home. Hi there! Firstly talk to us about how this project came to be. When the homeowners first approached you, what were their requirements?
During our first meeting, we got to know the homeowners a little more, and they mentioned that they wanted to create a clean, bright, and airy space for their family with three young children. One of their essential requirements was to streamline and create a big gathering space by combining the living room, dining area, dry kitchen, kitchen island, and even the altar into one big common area on the ground floor. This turned out to be one of the biggest challenges of this project.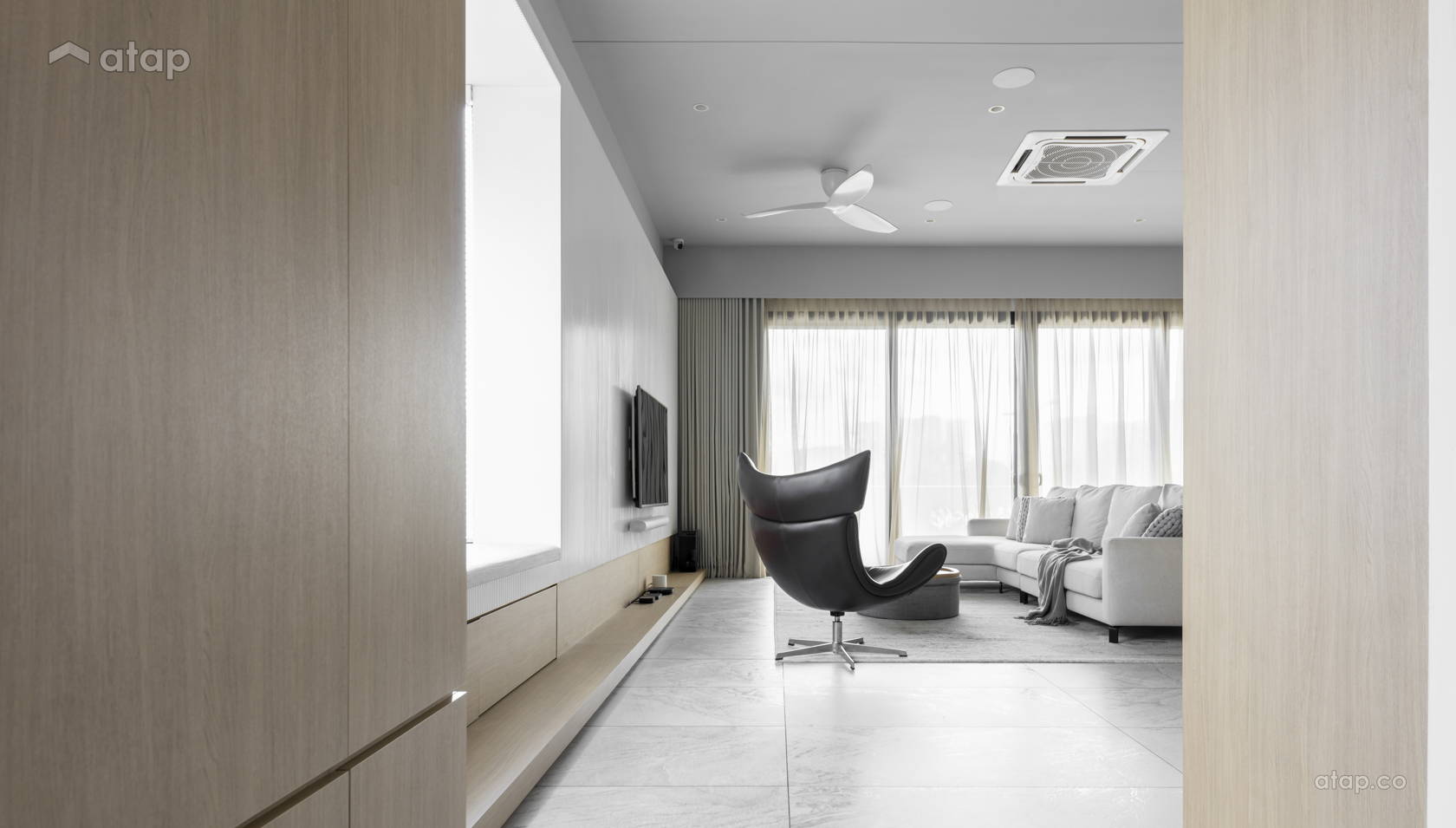 With their open-plan layout idea in mind, what were your thoughts when you first visited the home? Did you already have ideas in mind?
Our first site visit to their home made it evident that the ground floor had limited floor space. The goal was to create an open multifunctional space, so we proposed a modern contemporary design concept with a minimalistic approach.  This idea will help us achieve the desired purpose and functions of the area while maintaining a clean and sleek look overall.
So you adapted to the layout of the home. Now that you had an idea of what was required and feasible ideas. What were your influences or inspirations when you worked on that project?
Due to the lack of space, we wanted to embrace the "Less is More" philosophy due to the lack of space. Minimalistic concepts exemplify simplicity at their best, so we were driven to artistically simplify their way of living to improve their quality of life.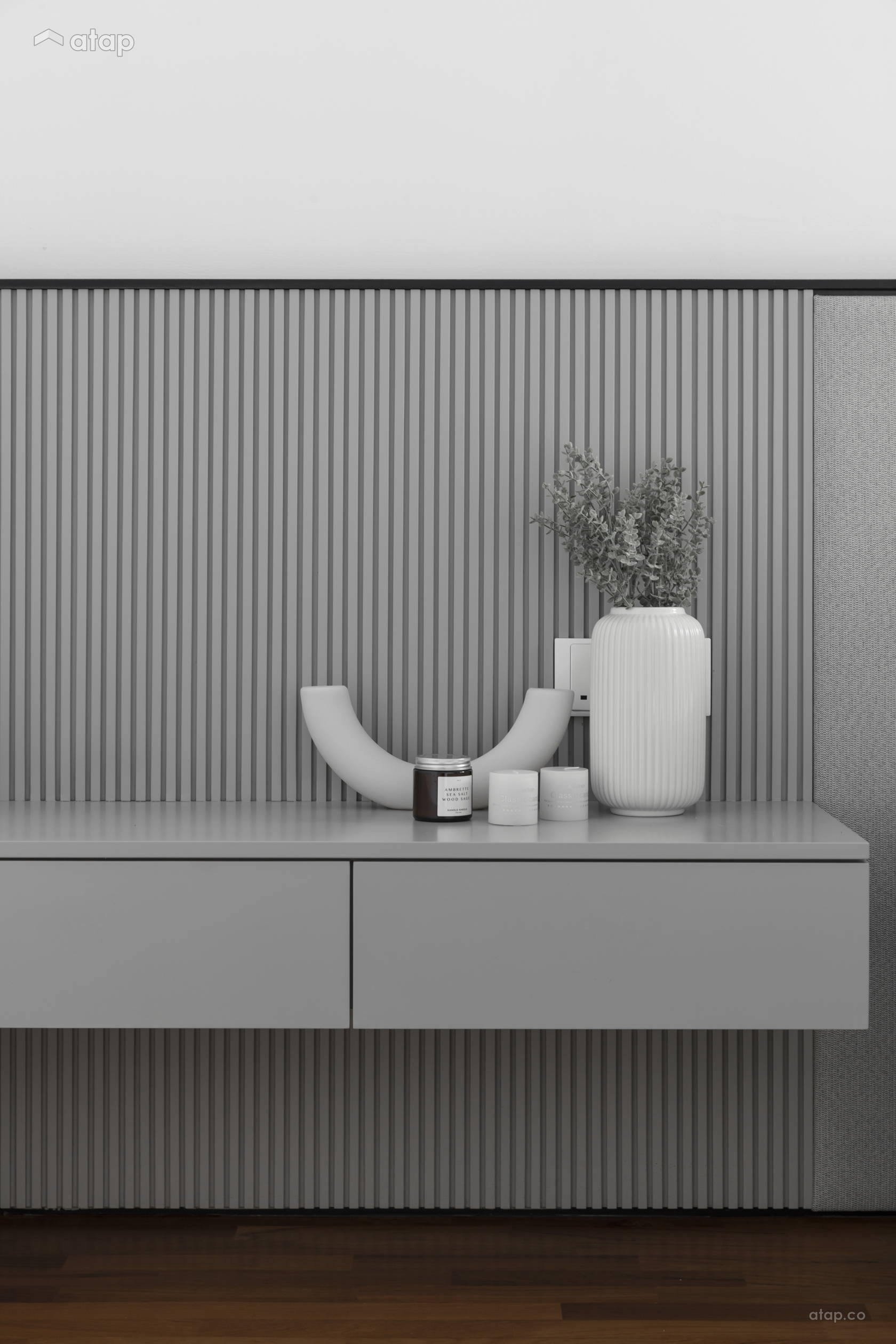 As you mentioned, floor space was an issue, so how did you go about space planning and layout planning for this home?
Strategic space planning and furniture layout planning were highly required when it came to this project. In order to keep to our less is more ideology, we streamlined and merged furniture fittings like the cabinets in the altar and dry kitchen alongside the day bed and TV wall to create more pockets of space. This helped us achieve a cleaner, neater, and visually spacious home.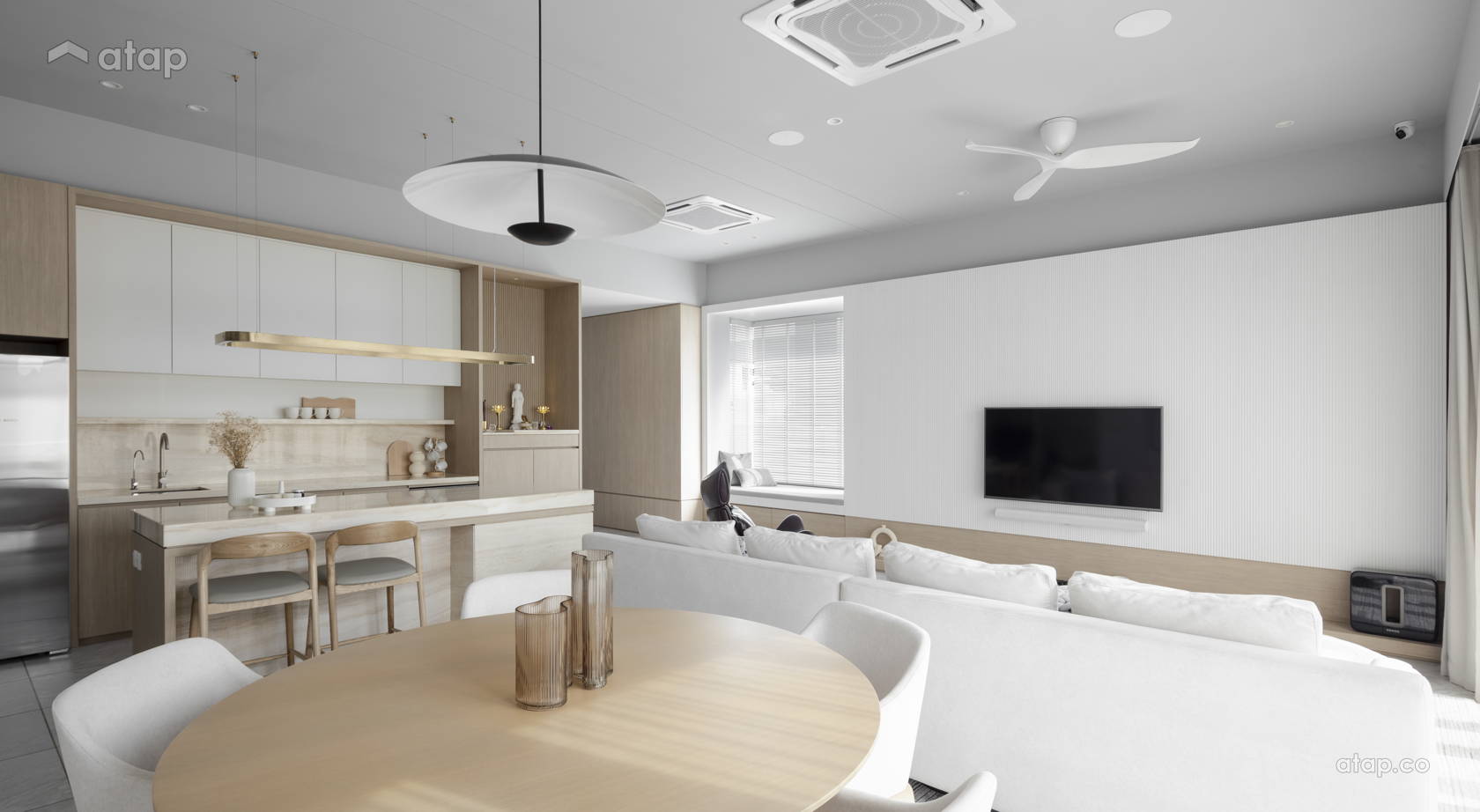 Another way we achieved a cohesive home is by using colors. The light gray ceiling wrapped around the living room, dining area, and extended to the dry kitchen, helps cocoon the entire area in a subtle and cozy way. The exact shade of gray flooring reflects the ceiling color and design, creating a harmonious look of the space.
Aside from using colors, you also used wooden elements and fixtures throughout the home. How did you execute the effortless look that combines colors and elements?
In order to stay in line with our color scheme, we opted to limit the colors around the home. We used White Oak light wood as an additional element and a color feature that compliments the neutral earthy hue of the house. We also ensured that all the wood pieces and decor were carefully selected to blend harmoniously with the other elements in the home.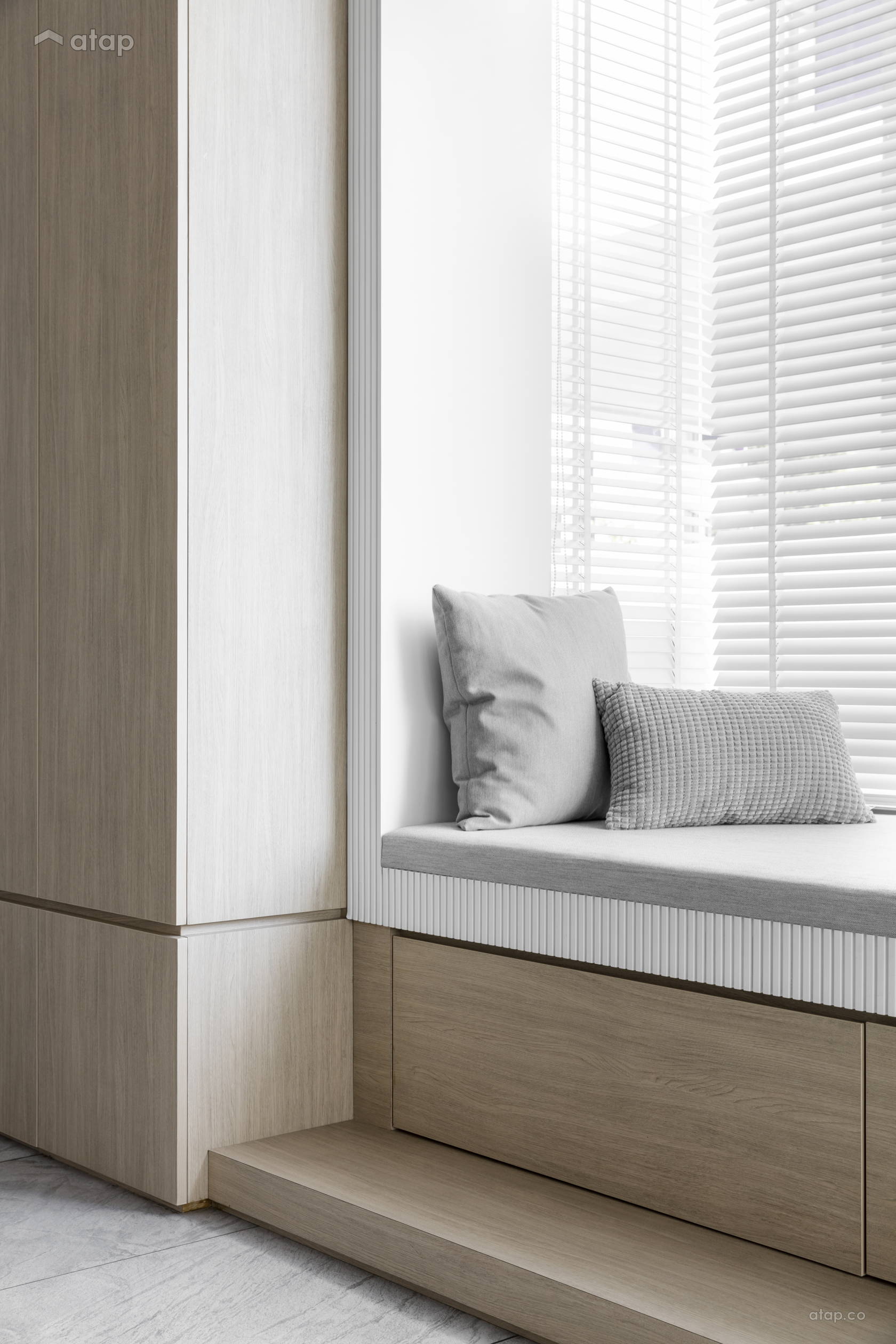 The home as a whole feels very clean, clutter-free, and cozy. How did you manage to achieve this look and feel?
The key is to simplify the color scheme. The general rule of thumb that we use is not to have more than three different colors in the overall palette of the space. This makes a room instantly feel serene and less chaotic.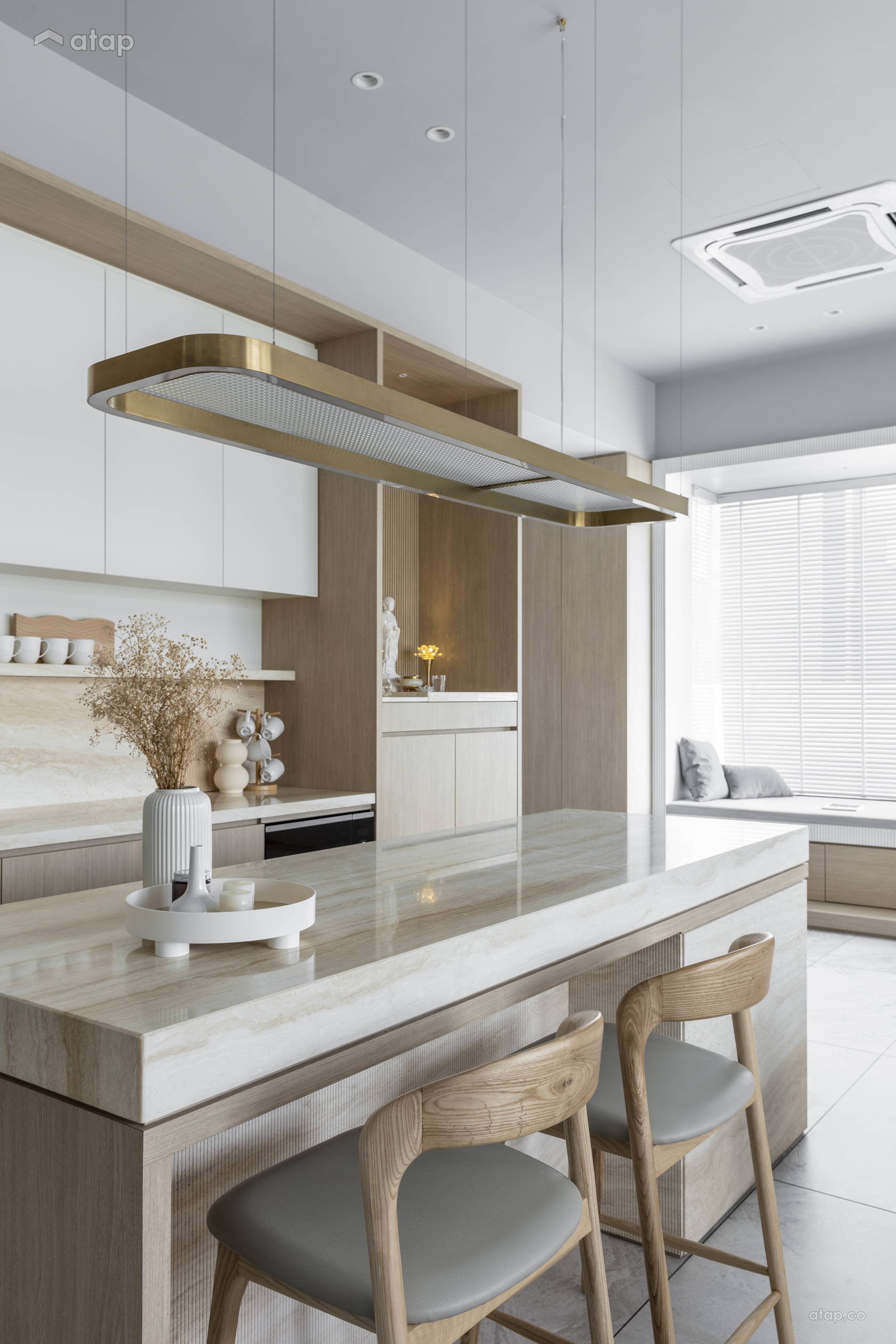 That's an excellent tip to take note of! Circling back to when you mentioned the day bed, it is such an excellent addition to the home. Tell us more about the idea and design process of this nook.
This has to be one of our favorite highlights of this home. The idea of the reading nook came from an existing protruding window that could not be removed as per guidelines from the property developer. So, in turn, we created a full-length TV cabinet wall and elongated to the window as a daybed, making it a cozy spot as a reading nook!
What an interesting way to solve a problem! Let's talk about the kitchen. Your kitchen design is unique yet straightforward; we especially love the gradients on the kitchen island. How did you go about designing the kitchen?
Apart from the strategic design of the combined dry kitchen with altar cabinet, the kitchen island has exquisite detailing too. We selected Travertine stone, a type of limestone formed by mineral deposits from natural springs that create unique swirls and movement that give travertine its distinctive character like beautiful gradients.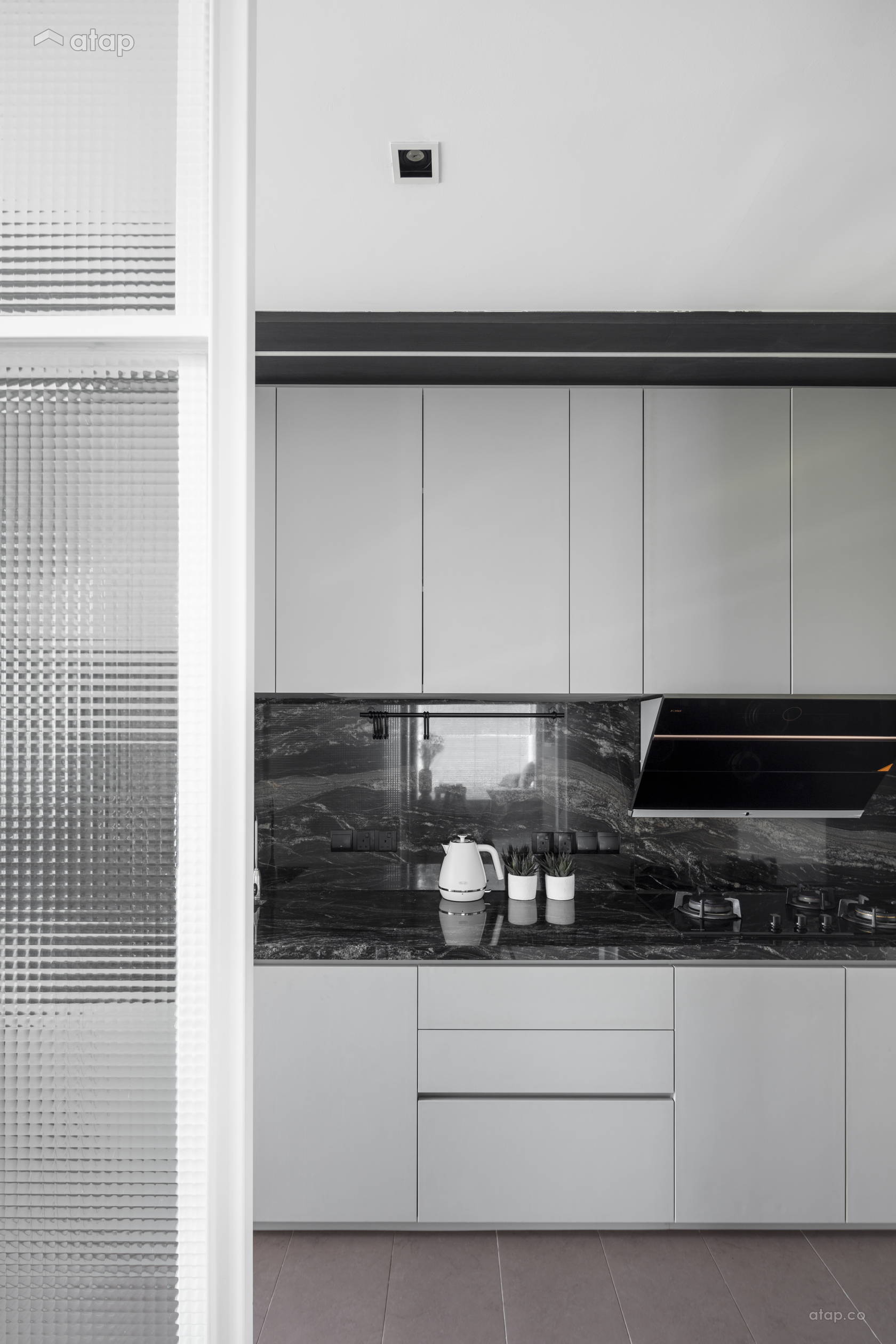 To take a closer look, it is noticeable that the kitchen island is topped with polished travertine stone, while the bottom of the island is wrapped around with grooved travertine stone, which adds different textures and design elements to the kitchen island.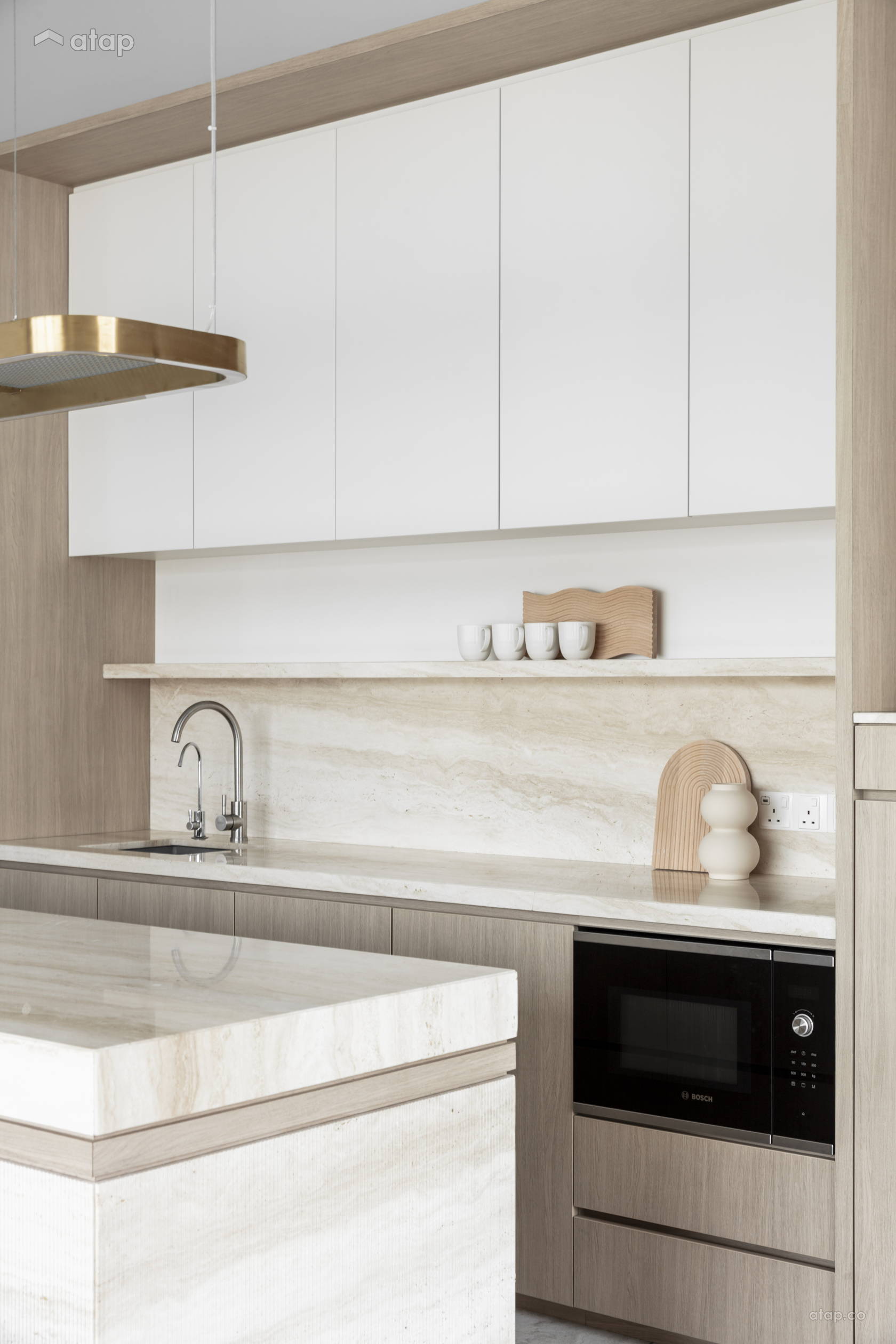 Moving on to the bedroom. It is full of personality! What was the main idea behind the master bedroom design?
Since the living area has a bright, airy, and welcoming vibe, we adopted a contrast in the design for the master bedroom, using a dark color scheme to create a soothing ambiance to unwind and relax, making it the perfect set-up for a good night's rest.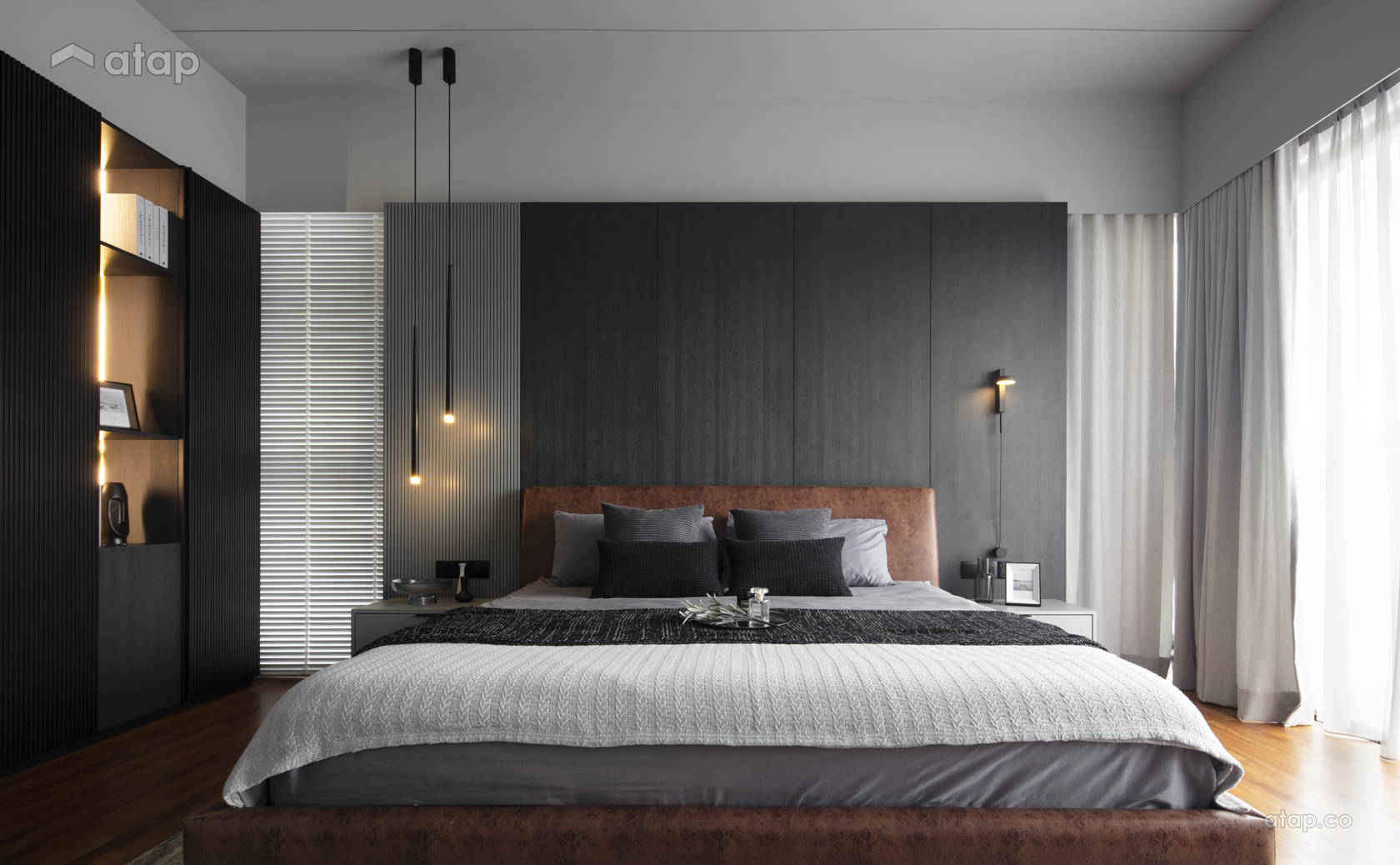 What has been your favorite part about working on this project?
It would be how we problem solved while working on this project. We were able to overcome the spatial limitation to achieve a well-balanced, tasteful, minimalistic home.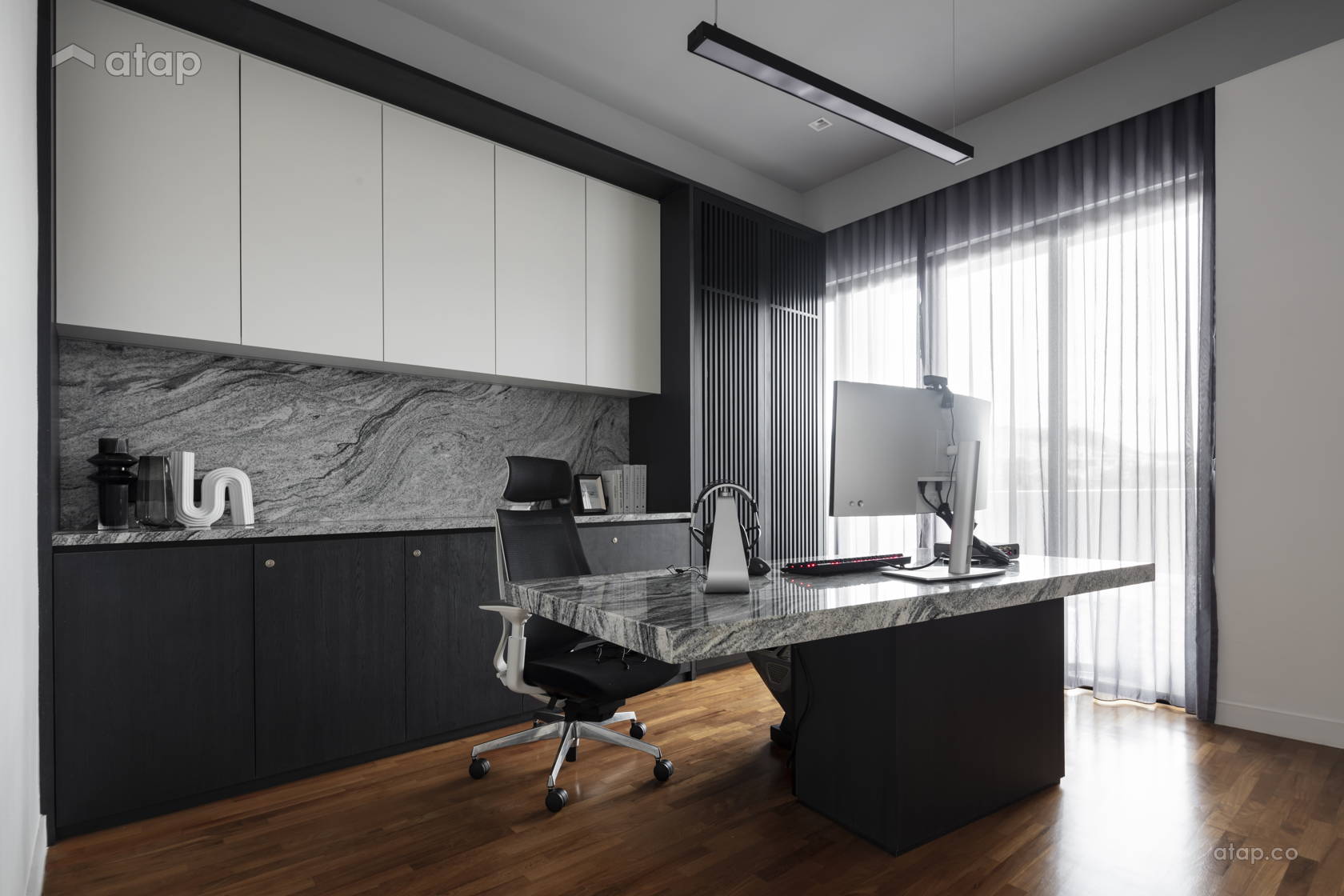 Box Design Studio most definitely proves that they are up for any challenge as they redefine what it means to curate a dream home.
This article is a feature extracted from Atap.co's 2021 magazine.
Want to give your  space an upgrade? Click here to connect with the local interior designer! 
Why you should care
Embracing the 'Less is More' philosophy, Box Design Studio created this personal sanctuary for a young family with a clean, bright, and minimalistic space that embodies serenity and simplicity with style!