Deciding on electronics for your home can be a troublesome task especially when there are so many options in the market. Your decision should be based on the needs and requirements of your space, so we're here to help make that decision easier.
Two out of the many home appliances that homeowners invest in are fridges and a TV. These are common household staples and quite frankly a basic necessity in this day and age. With so many options to choose from out there, we've narrowed down the search for you with the LG OLED E9 TV and the LG InstaView Door-in-Door Refrigerator.
Let's start by breaking down the specifications of LG OLED E9 TV. OLED aka organic light-emitting diodes is different from your regular LED TVs. Basically, it has better image quality and lower power consumption. Hollywood directors have even said that it presents their masterpieces the way they intend for it to be.
Here are some features to love about the LG OLED E9 TV.
1
Cinematic Splendour
If you're a movie buff or just someone who loves the cinematic arts, then this TV will heighten your viewing pleasure. Specifically, with its perfect black feature. This means the screen reaches a deep black level by switching off pixels and have no light emitted through. Plus, with its wide viewing angle feature, colours remain the same no matter where you're seated. Watching Netflix just got a whole lot better as well with a faster, easier and better experience.
2
The Gift of Sound and Vision
Immerse yourself in a surround sound experience with the built-in Dolby Atmos feature as it broadcasts object-based audio from intense high-speed chases to incredible film scores. The LG OLED E9 is also equipped with a 4K Cinema HDR and a 4K HFR feature. To put it simply, Cinema HDR means it has a high dynamic range which allows a wider range of the contrast between the brightest whites and the darkest blacks. The HFR, aka high frame rates, delivers a blur-free motion with fast-moving pictures. This is a great feature to have when watching sports matches.
3
AI Tech
Put aside your worries about constantly adjusting the brightness throughout the day because the LG OLED E9 automatically adjusts itself to suit the light in the room. The TV also comes with an AI sound tuning which allows sound to travel around the obstacles in your room. On top of that, there is also an interactive voice interaction feature through the mic in the TV remote. According to LG officials, this LG ThinQ AI makes more things possible and more conversation with the added voice recognition feature. Get recommendations for customised content based on your watching habits.
Why you need the LG InstaView Door-in-Door Refrigerator
Don't settle for a basic fridge when you can upgrade with this LG option. If you're wondering what an InstaView Door-in-Door means, it's basically a mirrored glass panel that lights up with two quick knocks. It reveals the contents of the easy access compartment without opening the door. This nifty feature helps to reduce cold air loss up to 41% and enables easy access to your snacks!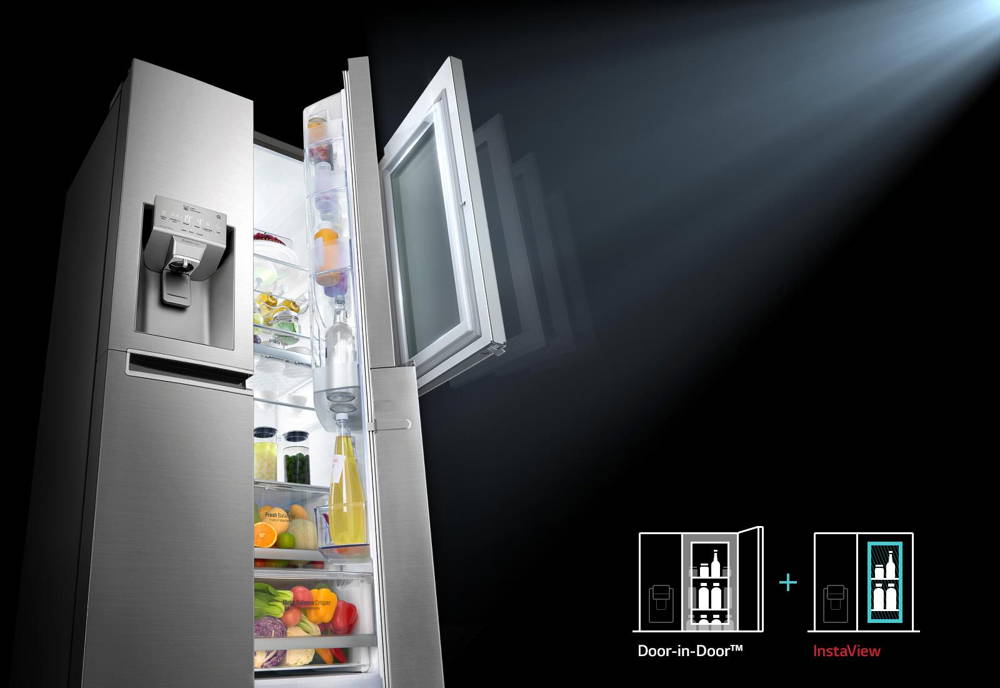 It also possesses all the necessities you look for in a high-quality refrigerator. You don't have to worry about storing your goods in an unorganised manner as this refrigerator with a full wine rack which can store up to four bottles and a utility box to store that is ideal for smaller items. It also has a Moist Balance Crisper™ feature which essentially is a lattice-patterned box that helps the moisture of your fresh produce.
Maintain a hygienic refrigerator with LG's Hygiene Fresh+™ features that are equipped with a five-step air filter that removes up to 99.999& of bacteria as well as bad odour. This is especially handy for the utility box section where you can store smaller items such as deli and cheese with an optimised temperature. No wonder it won the award for Best Food Storage for the Asia Tech Awards 2018-2019.
Lastly, save energy with LG's inverter linear compressor. It helps you save up to 32% of energy plus its temperature control allows your food to stay fresher for a longer period of time.
For more information on these products, visit lg.com/my .
Written by Melanie Abraham