In most homes, televisions are the focal point of the living room, and deciding on which TV to buy can be a little daunting, but fret not; we're here to help!
As an international pioneer in colour television and one of the leading manufacturers of Android TV, SKYWORTH has just unleashed a futuristic product embracing digital minimalism. SKYWORTH's SUC6500 is a super sleek and sophisticated 70'' Android 10 TV that is a user-friendly, affordable, and exquisite addition to millennial homes. Read on to know more about the all-new SUC6500 70″ 4K UHD Android 10!
SKYWORTH's SUC6500 70'' 4K UHD Android 10 TV gives your home an instant upgrade. This new series has a super narrow bezel design that is aesthetically pleasing and delivers a pristine clean look to any living area. It is a good fit for your cozy living room, stylish TV cabinet and comes with a stand of 4.5 inches providing ample space at the bottom, where you can place your soundbar, gaming console, or TV box right under your TV!
Bigger Screen With Better Resolution
If you have a big family, you have probably experienced the battle and tug of war involved in getting the best viewing spot in front of your TV. Well, the all-new SUC6500 70'' 4K UHD Android 10 TV promises to lift that worry away! Exceptionally designed Trochilus Extreme 2.0 engine delivers high-resolution images and rich colours that intelligently optimize content for best viewing experiences. Want to elevate your family reunion a whole lot better?
Treat your family to an exceptional movie marathon, fast streaming any movies with AV1 decoder's reliability and have your very own karaoke session thanks to the built-in 10W speakers that support Dolby Audio and DTS Studio Sound!
Incorporates Smart Systems For Smart Living Experience
The SKYWORTH SUC6500 70'' 4K UHD Android 10 TV promotes Eye Care Flicker-Free Technology and user-friendly features that allow easy operation. Many intelligent features are incorporated into this highly beneficial product. Smart features like Google Assistant eases the process of navigation when you want to quickly access apps or select content using voice control.
Built-In Eye Protection Panel 
SKYWORTH SUC6500 70" 4K UHD Android 10 TV comes with a blue light protection panel. Continued exposure to blue light over time could damage retinal cells and cause vision problems. The built-in eye protection panel of the SKYWORTH SUC6500 is highly beneficial for people of all ages, by minimizing blue light emission, to help effectively protect users' eyes. Netflix marathon, here we come!
Easy Wired & Wireless Connectivity
If you're a gamer or movie buff, this TV will be your beau! The SUC6500 70" 4K UHD Android 10 TV comes with three HDMI 2.0 ports, as well as two USB ports that allow you to connect multiple gaming consoles and other devices to your TV. It also supports Bidirectional Bluetooth 5.0, which enables high-quality wireless streaming from your smartphone to the TV's speakers for exceptional audio immersion.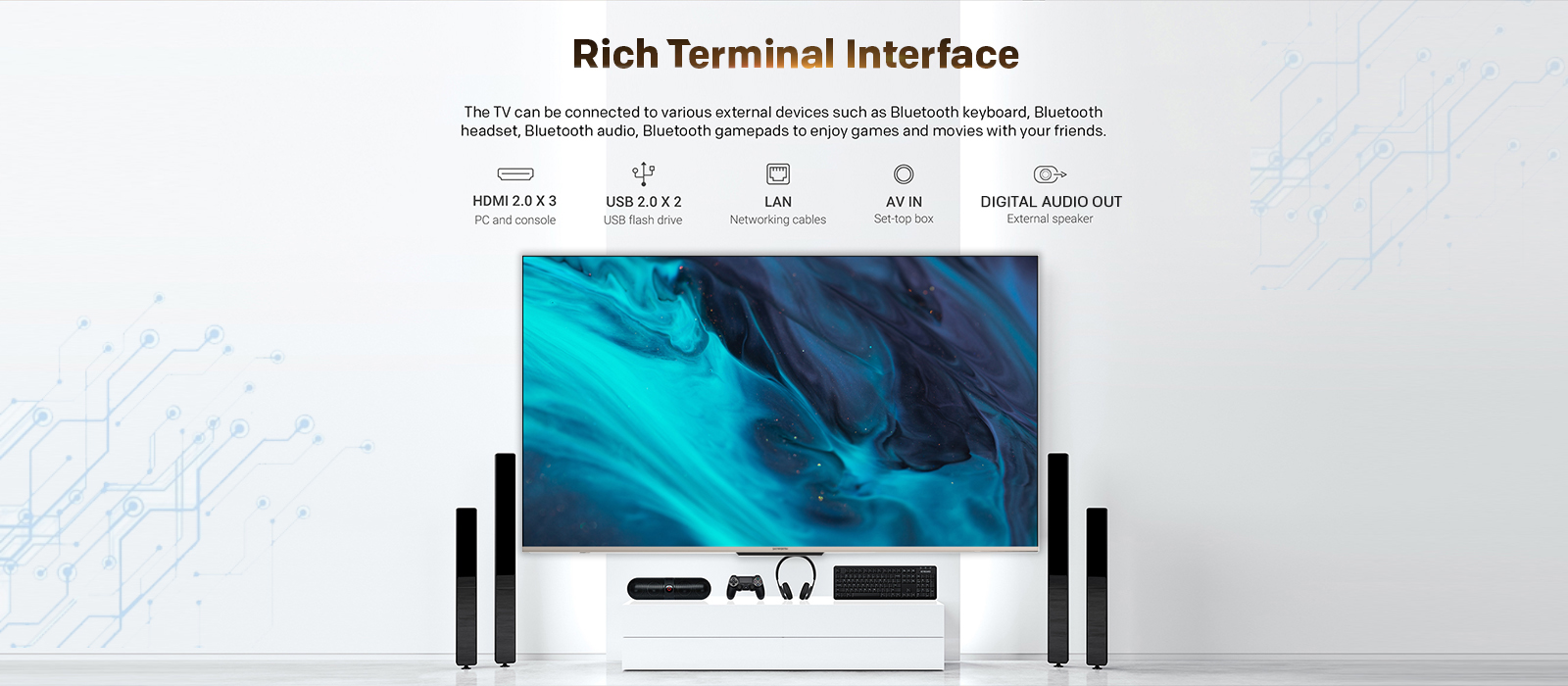 We're excited about how this TV can upgrade your user experience! Less is better might sound like a cliché, but it is the essence of the minimalist design trend. The new SUC6500 70'' 4K UHD Android 10 TV depicts convenience, elegance, and simplicity to step up your home entertainment experience as a complete all-rounder!
Exciting news! Atap.co users get to enjoy up to RM 200 discount using the promo code SKYW0200 when they purchase a Skyworth TV at SKYWORTH SHOPEE OFFICIAL STORE from January 25th till February 28th, 2022!
So wait no more and visit SKYWORTH Malaysia's official website at www.skyworth.com.my to check out this trendy and fine-looking TV now!