Why you should care
Modern, oriental, and nautical designs make these Malaysian homes feel like getaways.
These beautiful homes embrace their wanderlust by incorporating themes that mimic resorts, boutique hotels, and funky Airbnbs.
There's nothing better than escaping to the sanctuary of your own home after a long day of keyboard tapping. Even better is escaping to a home that looks like a destination on the other end of a portal.
Before you get lost in these pictures, let us remind you that these are actual Malaysian homes!
The 5-Star Modern Oriental "Hotel"
Traditional oriental elements like lantern lights, porcelain vases, and lattice screens are mixed with modern designs like a light colour palette and metallic, see through, and glossy furniture. It's a timeless space that's not afraid to embrace its cultural heritage.
Believe it or not, this spacious looking condominium stands at a mere 926 square feet. It looks loftier than it is because of its strategic use of natural light via large windows. We're also in love with the retro interior in beautiful colours of pastel blue-greens, yellows, burnt orange, soothing grey, and dark wood.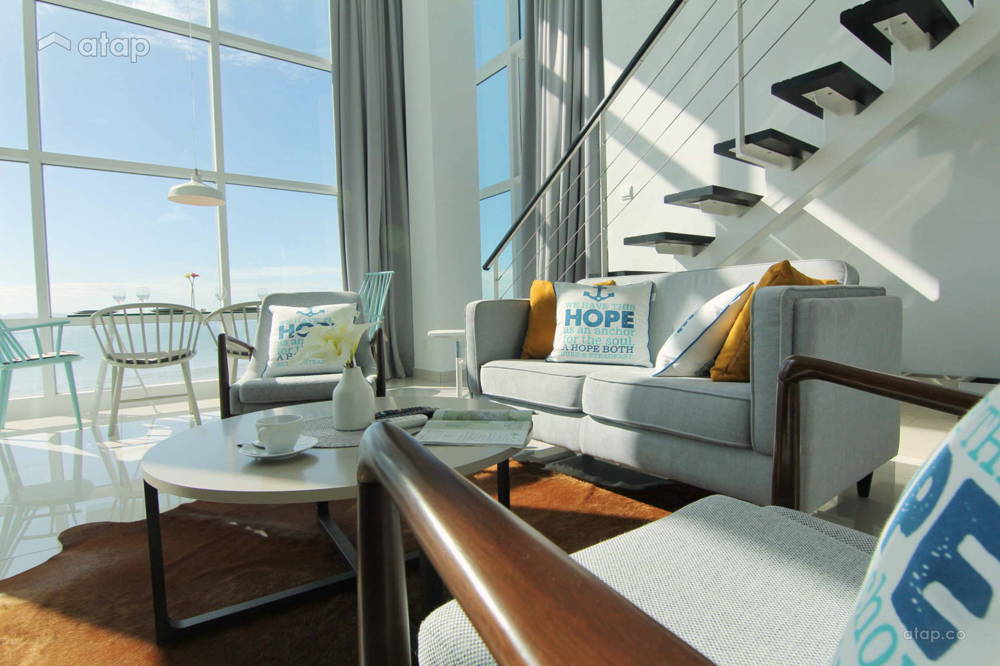 The "Beach House"
If you really love something – like the beach and the sea – then go for it, add it to your interior design! This beach-farm house hybrid features lovely rattan furniture and rustic designs like the feature wall and the "candle" lighting in the dining area. It also boasts an amazing curation of accessories to match the theme: seashell bowl, basket side tables, and fish décor!
The Seaside "Penthouse"
Love the seaside and modern luxuries? Put them together! The striking resort elements of this condominium are evident in its wooden furniture and architecture. These contrast well with the unit's modern art pieces, marble countertops, and children's loft bedroom.
The Hillside "Homestay"
To make use of the green views from the backyard, this bungalow has a relaxing seating area with a swing chair and a hammock. The modern interior is luxe yet cosy with a neutral palette of taupe, brown, grey, cream, and beige with metallics. The different textures such as the dark marble kitchen island and gold dining ceiling feature and lighting make this home one of a kind.
The Artsy "Studio"
This artsy studio has a brooding mood will suit creative souls. The dark furniture, paint, and appliances in the common areas carry on in the master bedroom that boasts a bold, greenish blue wall. Opposite that is a white feature wall which is made up of small, graphic squares – très artsy!
Love these looks? Click on the 'Request Quote' button on any of the images to receive a free quotation from Malaysian interior designers.
You can also check out other local interior design portfolios.
Why you should care
Modern, oriental, and nautical designs make these Malaysian homes feel like getaways.